SALT LAKE CITY – As she opened the new supportive housing complex named in her honor, cutting a celebratory ribbon and hearing her virtues touted by people like the Governor of Utah, the longtime advocate for the homeless shelter Pamela Atkinson insisted the day be focused on the people the building will help – her friends."It's really not about me," she said. "I just want to focus a bit on the people who are going to live here, the people for whom this building was created. And these are our homeless friends and our low income friends.
The recently completed Pamela's Place Apartments, located at 525 S. 500 West, is a five-story facility that will function as a housing complex with ongoing support services for those in need, with a particular emphasis on helping people in need. People with Disabilities.
To celebrate the building's opening, officials held a groundbreaking ceremony in the lobby on Tuesday, showcasing the facility to the media and the public.
Atkinson was chosen as the building's namesake in recognition of his years of humanitarian service and advocacy for the city's homeless people. Comparing her to Mother Teresa, Herbert praised her caring and generous nature.
"When Jesus said in the New Testament, 'Love your neighbor as yourself,' Pamela not only understands the words, but she actually shows it by her actions," he said. "She loves her neighbors as herself and does everything she can to help improve their situation."
The housing itself consists of 100 units and will provide indefinite shelter for the homeless population of Salt Lake City. The "permanent" label "doesn't mean people live here forever," Daniel Nackerman, executive director of the Salt Lake City Housing Authority, explained at the ceremony, "but it does mean they don't. to worry about being evicted or displaced. "
Ninety-five of these units are intended for people with disabilities, of which 10 are for people with physical disabilities, and five are homeless or nearly homeless.
In addition to housing, the complex will offer a host of services to its tenants, including counseling, mental health services, physical health services and access to a psychiatrist – which Nackerman called "super unusual" for. such facilities.
The building will have a clinic on the first floor run by Sacred Circle Healthcare, which is owned and operated by the Confederate Tribes of the Goshute Reservation.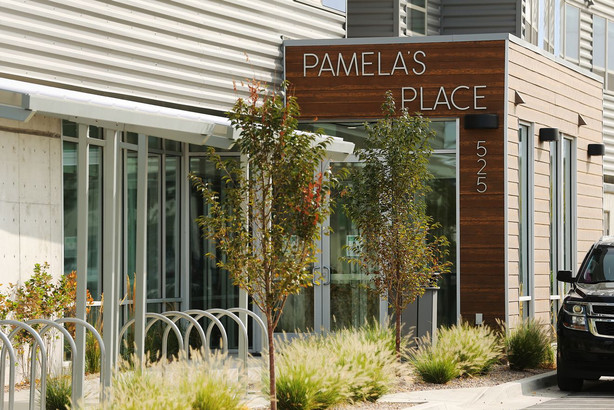 "Part of the magic part of the funding is actually the Confederate tribes of the Goshute reservation," Nackerman said. "By funding the services, it really makes this project very unusual, even on a national scale."
Staff will be available to assist tenants 24/7.
"It is the beauty of this center, Pamela's vision, that we will be able to provide the necessary support," Salt Lake County Mayor Jenny Wilson said in her speech at the ceremony.
"We continue to live with homelessness," she added. "It's an ever-changing need, as has been mentioned. What we do know is that permanent housing with supportive services is a top priority and essential to the self-sufficiency and success of our homeless population.
By providing these "extended support services" officials hope such facilities will help people not only get off the streets, but also deal with the reasons for their homelessness.
After all, changing your life is much easier when you have a bed, a shower, and protection from the sometimes harsh Utah elements.
"We recognize that a Housing First philosophy is part of fixing the problem of homelessness. Again, it is not a question of people who have to find their way into a housing project and get housing. It's all about helping us with the situation if people are having addiction issues, by dealing with the addiction – getting them out of their addiction, "Herbert said. "All of this is more achievable if you have a house, if you have a roof over your head and shelter."
The ribbon-cutting ceremony featured several government speakers, including in-person speeches from Herbert and Wilson, and virtual thoughts recorded and delivered by Sen. Mitt Romney, R-Utah, and Representative Chris Stewart, R-Utah , who was particularly impressed with the building.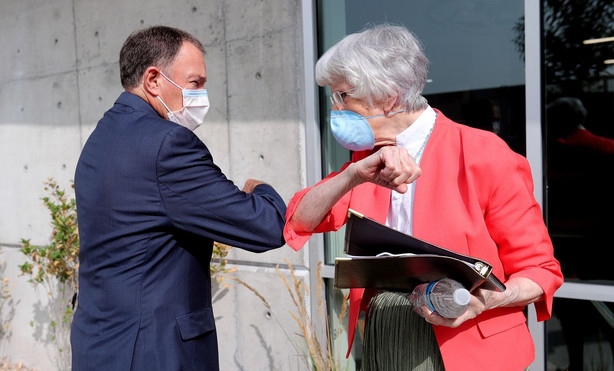 "What a great facility," said Stewart in his remarks. "Pamela's Place is such a great beacon of hope for so many people. And it took a lot of hard work and the dedicated efforts of so many of you to create this beautiful installation, so it's not just a dream – it's actually something that will help and bless people's lives.
Construction of the building took less than two years and cost around $ 11 million, according to Nackerman. It was almost entirely publicly funded, with the Utah Housing Corporation providing more than half of the money and the Salt Lake City Redevelopment Agency, the federal mortgage banks, the Olene Walker Housing Loan Fund, and the National Housing Trust. Fund contributing.
Nackerman also identified Goldman Sachs and Zions Bank as entities that helped establish the center.
"This one was relatively inexpensive," he said of the installation, "partly because of this long and narrow setup, partly because the units are quite small. But we are very proud of the low costs compared to other tax credit sites. "
"We are not going to make any money on this project, and that is fine with us," he added. "We didn't intend to do it from day one. We think the mission speaks for itself.
Pamela's Place was created by developer Housing Assistance Management Enterprise and the Salt Lake City Housing Authority. Together, the two "promote and provide more than 10,000 affordable housing units in Salt Lake Valley."
And they don't plan on stopping anytime soon, with another facility opening on Oct. 18, according to Nackerman.
"We will just keep building and buying until there are enough houses for everyone who needs them," he said.
×
Photos
Related links
Related stories
Other stories that might interest you