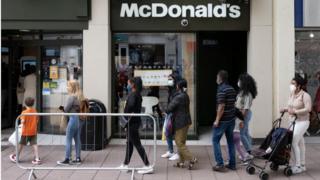 McDonald's, Pret a Manger and similar unlicensed restaurants will not need to serve customers at the table, the government has confirmed.
On Tuesday, new rules governing hospitality were announced.
They mean that pubs and other places with licensed premises must provide table service.
Previously, confusion had erupted after Foreign Minister Dominic Raab suggested on Wednesday that all restaurants may need table service.
He told the Today program, "In all restaurants and hospitality establishments, you can come in and order from tables – what you can't do without a mask is just sit and grind.
"I understand you have to be able to order from the tables. But of course the guidelines will be very clear. "
The updated guidelines specified that all pubs, bars, restaurants and other hospitality venues in England must have a closing time of 10 p.m. from Thursday.
These measures aim to slow the spread of the coronavirus.
Cases and hospital admissions in the UK are on the rise again, prompting the guidelines to be updated.
Industry group UK Hospitality has criticized the government's approach, saying restaurants and pubs need to make changes soon.
UK Hospitality Managing Director Kate Nicholls said: "We understand that quick service restaurants will be exempt from the new rules, but there is certainly some confusion.
"The government is clearly struggling to catch up with the announcements and the policy changes daily.
"Businesses deserve better than this when they are expected to follow new rules in the short term. Especially when these rules are going to have such an impact. "
Ms Nicholls added that previous guidelines were better for pubs and restaurants because they allowed businesses more flexibility in implementing coronavirus measures.
"The places are not the same, even outwardly similar, so there is no one-size-fits-all approach that works.
"Business owners know what works for them in their sites. They are in the best position to know how to control the flow of customers through their business. "
Rule changes
The new rules at state-owned enterprises in England must take customer contact details by law, so that they can be traced in the event of a coronavirus outbreak.
They can be fined up to £ 10,000 for not doing so, if they take bookings of more than six, or if they don't enforce social distancing.
Hospitality staff must now wear masks, just like customers who are not seated at their tables to eat or drink.
The penalty for not wearing a mask or breaking the 'rule of six' has doubled to £ 200 for a first offense.
In Wales pubs, bars and restaurants will also have to close at 10 p.m. from Thursday, supermarkets and out-of-licenses will no longer be allowed to sell alcohol after this time.
In Scotland, a 10 p.m. curfew arrives on Friday.
Customers must wear face masks if they are not seated at a table.