The daughter of the late actor Rishi Kapoor, Riddhima Kapoor Sahni arrived in Mumbai from New Delhi on Saturday evening by road to be with her grieving mother Neetu Kapoor and brother Ranbir Kapoor. The ace designer, who would not have been granted permission to fly due to the nationwide lockdown of COVID-19, could not be in Mumbai in time to witness his father's final rites.
In recent days, Riddhima has been on social media to fondly remember the happy days she spent with her adoring father. In her latest articles, the star spoke of her heart when she shared a family photo with her late father, mother, Ranbir and daughter Samara. She captioned the message by saying, "I miss you so much! "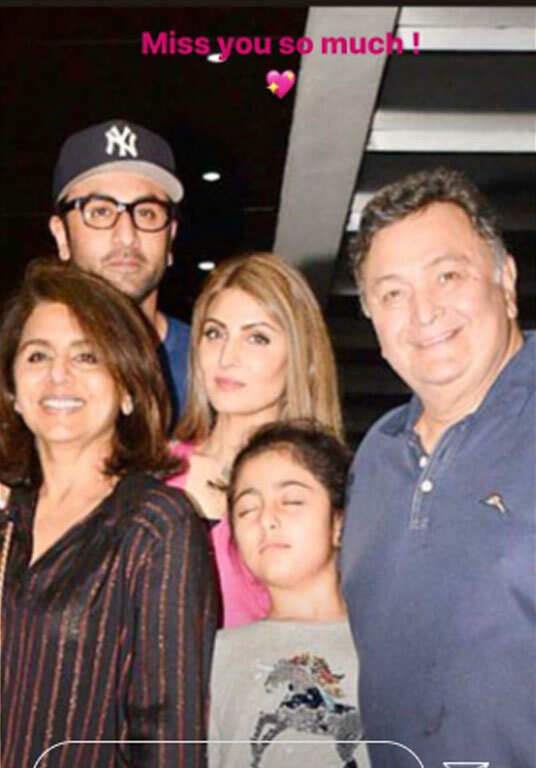 The photo is from one of the Kapoor's family dinner evenings at one of their favorite restaurants in town. Whenever Riddhima was in town, the family was seen heading to at least one dinner date at one of the town's luxurious restaurants.
Thursday, Riddhima shared a heartbreaking post, remembering her darling father, saying, "Dad, I love you, I will always love you-RIP, my strongest warrior, I will miss you every day. I'll miss your FaceTime calls everyday. "
"I wish I could be there to say goodbye! Until we meet again Dad, I love you – your Mushk forever, "she concluded with a clueless heart and emoji.
Rishi Kapoor breathed his last Thursday morning after a two-year battle with cancer. The last rites were performed around 4 p.m. at the city's Chandanwadi crematorium.
Although Riddhima could not be physically present for the last rites, Alia Bhatt was seen face-to-face with her so that she, like the other members of the family, could say goodbye to her.