A stylist at a Great Clips hair salon in Springfield, Missouri, may have potentially exposed 84 people to COVID-19 because they continued working despite symptoms of the virus.
The stylist worked alternately in the morning and in the afternoon in the hair salon franchise. Now the Springfield-Greene County health department is trying to warn anyone who may have come into contact with them.
The hairdresser and their clients would wear face masks during the infected employee's shifts, which could minimize the number of potential coronavirus exposures, although it is not yet clear if new cases have been traced to the workplace of the stylist.
The health department said the rest of the show's customers during this period were likely to be at very low risk of exposure.
Newsweek has contacted Great Clips for comment. This story will be updated with any response.
In addition, the health department has informed recent customers of a local Walmart, a Dairy Queen, a CVS and a 10 Fitness gym, as symptomatic customers have recently visited various locations of these companies in the past week.
The health department said people should monitor themselves for symptoms of COVID-19, but has discouraged self-quarantine unless symptoms develop.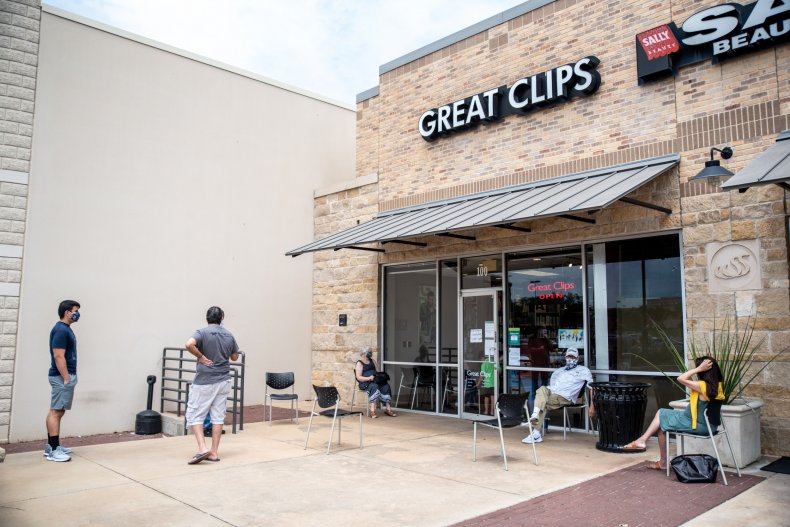 The lounge was licensed to operate as part of the Stay Home Missouri set up by Republican Governor Mike Parson from April 6 to May 3. Missouri's reopening plan forces companies to observe social distancing and other precautions to slow the spread of the virus.
As of May 22, Missouri had recorded 11,558 confirmed cases of coronavirus and 671 deaths. Greene County, where Springfield is located, had 102 cases and seven deaths on the same date.
In the midst of different lockdown and reopening plans for states and cities across the country, hair salons have emerged as an unlikely battleground for trade and public health rights during the current epidemic.
On Wednesday, Cat Thibodeau – owner of Modern Barber and Shave, a hair salon in Pawcatuck, Connecticut – reopened his business in defiance of Governor Ned Lamont's decree closing all non-essential businesses to slow the spread of COVID-19.
Similarly, Owosso's hairdresser, 77-year-old Karl Manke reopened his hair salon last Monday in violation of Michigan's governor's decree, Gretchen Whitmer, shutting down all non-essential businesses.
Manke and Thibodeau stated that they could no longer survive without earning an income and committed to following safety guidelines to minimize possible exposure of customers to the coronavirus.
In Texas, Shelley Luther, owner of the Fashion Show in north Dallas, was jailed for several days after continuing to operate his business.
The Texas Supreme Court finally ordered his release after Texas Governor Greg Abbott rewrote his executive order to ban future arrests for companies that violated his order.