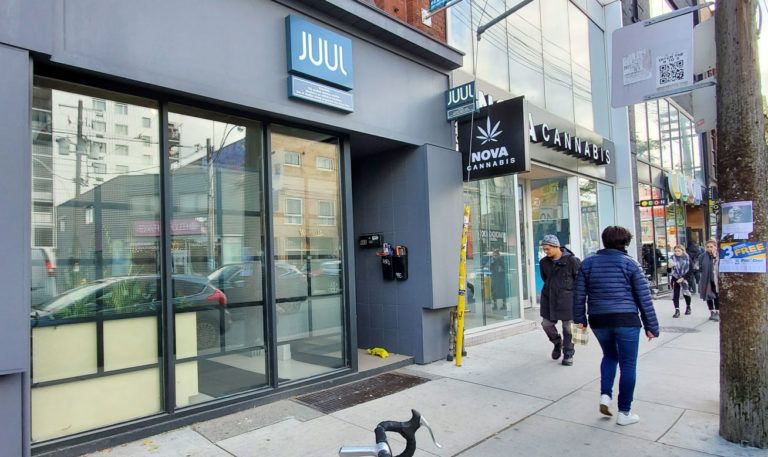 (This story has been updated with new quotes and information.)
Private sector cannabis stores in Ontario, Canada's largest market, were ordered to close late Saturday in response to the COVID-19 pandemic, leaving outlets with nowhere to turn because the government maintains a legal monopoly on online sales.
The store closings – which will last at least two weeks – could be devastating for about four dozen private sector marijuana stores in Ontario, as the province has long banned them from offering online sales and cannabis delivery services. at home to customers.
Ontario previously classified cannabis stores as "essential workplaces," but they were removed from an updated list of essential workplaces released on Friday.
Businesses not on the list must close at 11.59 p.m. local time on April 4. The closure order will last at least 14 days and may be extended.
During this period, only the government-owned online cannabis store (OCS) will be allowed to sell adult cannabis in the province, a spokesperson for the Office of the Premier of Ontario said in a statement. at Marijuana Business Daily.
Click-and-collect will not be allowed by private retailers during store closings.
Delivery of OCS will have little public health benefit, industry sources say, as customers will still be forced to pick up packages at busy post offices.
Canada Post no longer offers door-to-door delivery of cannabis.
Cannabis producers in the province could remain operational.
Disappointment, uncertainty
Ontario cannabis store operators contacted by MJBizDaily Friday expressed disappointment mixed with hopes that the Ontario government could allow some compromises for cannabis retailers.
Jennawae McLean said she had just received her license to sell recreational cannabis products at her Calyx & Trichomes store in Kingston on Friday morning and plans to start sales in time for 4/20.
"If it is a matter of a few weeks for the greater good, we will be fine and we will get there," she said.
"The fact is that we have overcome the difficult part now because we have our license. Nothing lasts forever, so as soon as we are able, we will no longer sell cannabis, even if it is modified in a way like only the sidewalk (pickup) or only the click-and-collect.
"I hope this will encourage the Ontario government to allow cannabis delivery services, or allow businesses to deliver themselves, as they allow in restaurants. "
Richard Ledesma, director of Shiny Bud, the operator of an Ontario cannabis store, wants the province to open up new sources of revenue for the stores.
"I would really like to see a little more regulation or allowances to keep the (cannabis) windows at least open, but maybe have modified procedures … maybe a curbside pickup or a click- and-collect, and things like that (if) that we can stay and continue to serve our customers. "
Steven Fry, co-founder and CEO of Sessions Cannabis, said that his business plans were in a hurry on both sides – his existing stores are to close and construction on future locations is halted.
"If it goes on for weeks or months, as some people speculate," he said, "it is going to have major implications in terms of decisions about staffing, expansion plans, agreements that we have on the table. .
"It's going to be quite impactful. "
James Jesty, President of cannabis retailer Friendly Stranger Holdings, said its stores are already taking significant security measures against COVID-19 by only allowing click-and-collect orders and limiting the store's capacity to one customer. that time.
"The (Ontario Cannabis Store) is obviously still available for online orders. However, Canada Post does not deliver them to your home. So you always have to go out and go to a variety store, or wherever the post office is, to pick up your cannabis.
"It doesn't solve any problem, really – I think it creates more. "
Jesty said he was concerned that authorized store closings would benefit Canada's "robust black market" for cannabis.
Producers remain open
Cannabis production workplaces fall under "agriculture and food production" on Ontario's list of essential workplaces, confirmed a spokesperson for the government of Ontario, and may remain open.
As the only licensed cannabis retailer in Ontario, the Ontario online cannabis store said on Friday that it "has taken a number of steps since the start of the pandemic to increase the capacity to manage a larger volume of online orders ".
"These steps include working with its service providers to add additional teams to the distribution center and operate 24 hours a day, 7 days a week, and to add shipping capacity to offer a direct delivery service to the home." accelerated, "noted the OCS spokesperson.
Ontario is Canada's largest province by population.
January cannabis sales in Ontario rose 10% on a monthly basis to exceed C $ 37 million ($ 26 million) in January, according to the latest sales figures from Statistics Canada.
Solomon Israel is a reporter for Marijuana Business Daily, based in Winnipeg. We can reach him at [email protected]
For more than Marijuana Business Daily's continued coverage of the coronavirus pandemic and its effects on the cannabis industry, click here.