When you think of Netflix's successful docuseries, Tiger King: murder, chaos and madness, it couldn't get more weird, it does. More information has been revealed since the end of the show. This includes some interesting treats from someone who has worked with Joseph Maldonado-Passage (aka Joe Exotic) before Tiger king fame – documentary maker, Louis Theroux.
Louis Theroux and Joseph Maldonado-Passage have a story together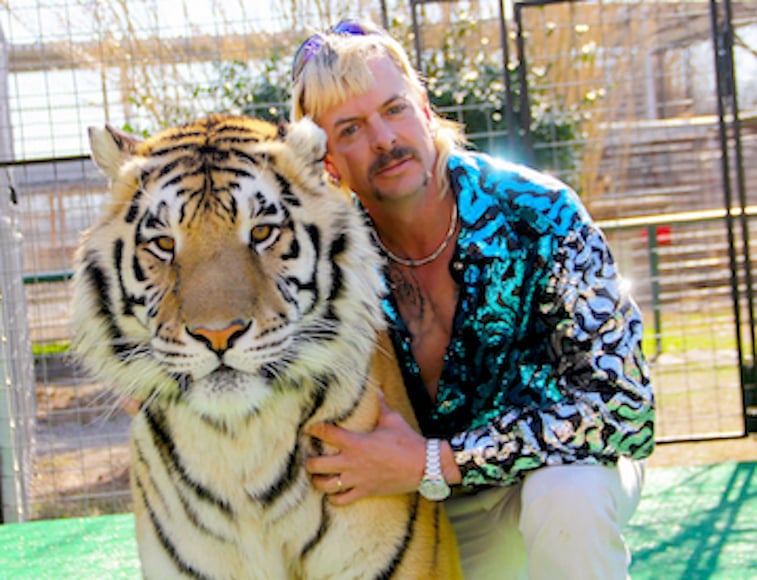 Once upon a time there was the award-winning journalist Louis Theroux who created the documentary, Louis Theroux: America's most dangerous pets. The 2011 film starred Maldonado-Passage and its animals. Theroux explored the world of "dangerous" pets at the G.W. Oklahoma Zoo (now owned by Jeff and Lauren Lowe).
Three years before Maldonado-Passage became the infamous "Tiger King", Theroux saw the true colors of the owner of the big cat. However, he also feels a slight twinge of envy with the success of Netflix docuseries.
"I really enjoyed Tiger king, my pleasure is only slightly offset by a sense of envy and a missed opportunity not to be involved in what turned out to be a worldwide success, "he told The Times.
"I remember that, having made our documentary, which came out as America's most dangerous pets, I felt there was probably some sort of longer series to go on in this world, "he said.
"Even if I did not know that Joe would end up being caught in a murder of another person and I really can not pretend some sort of prescience other than to notice that it is quite bizarre for Americans to keep a multitude of large exotic animals in small cages. "
With the obsession of Tiger king, Theroux talks about Maldonado-Passage, Carole Baskin and why it's hard to "hate" the former zoo keeper.
Theroux has a lot of feelings about Maldonado-Passage's obsession with Carole Baskin
Maldonado-Passage is serving a 22-year sentence for 17 counts of animal abuse charges and a plan to murder Carole Baskin. Theroux claims that "Joe Exotic" was "concerned" about his "resentment" against Baskin even in 2011.
Theroux said he had "no idea" that Maldonado-Passage could ever be part of the Baskin murder. However, he admitted that he thought Maldonado-Passage was "pretty weird," in that same interview with The Times.
"It was difficult not to love the man himself, perhaps because he did not seem to hide many of his wrongdoings or take himself too seriously," said Theroux.
"Joe's resentment against Carole worried him when we shot. He laughed at her, mentioning his belief that one of her husbands had been killed. "
If you haven't caught up Tiger King's madness, one of the secondary intrigues explores the disappearance of Baskin's second husband, Don Lewis. Internet memes and circulating theories suggest that Baskin had something to do with it – something that Maldonado-Passage has often talked about.
This week, Maldonado-Passage gave its first interview since Tiger King's press release saying he "ended up with the Carole Baskin saga".
"Now is the time to turn things around and Joe gets a free man free from all these charges," he said.
Here's what "Joe Exotic" would have done if the zoo had gone bankrupt
Theroux had already spoken of his visit to Maldonado-Passage during the shooting of the documentary. Maldonado-Passage said that if Theroux climbed into the cage with the tigers, he would shoot Theroux in the head to save him from a worse fate.
Theroux "liked spending time with" Maldonado-Passage. He described the zoo keeper as an "emotional guy" who tried to close the documentary several times. He would have been concerned about the angle of the producers in his story.
"I remember he was crying, then he took off his microphone at one point and went back," said Theroux.
Theroux believes that the allegations regarding Baskin's involvement in the Lewis murder are "very unlikely". However, he found the most disturbing part of his experience in a simulation scenario.
"The most disturbing thing he said was probably that if the park went bankrupt, he would kill all the animals," added Theroux.
Fortunately, viewers don't have to wait to see if this happens.