In case you haven't heard, Kylie Jenner is now on TikTok. She joined the popular video sharing app in late 2019 and has since downloaded more than two dozen messages.
Her content is mostly focused on her family, so it was only a matter of time before something Keeping up with the Kardashians appeared on his account. Most recently, she stepped onto the platform with Kris Jenner and re-enacted an iconic moment involving Kourtney Kardashian and Scott Disick.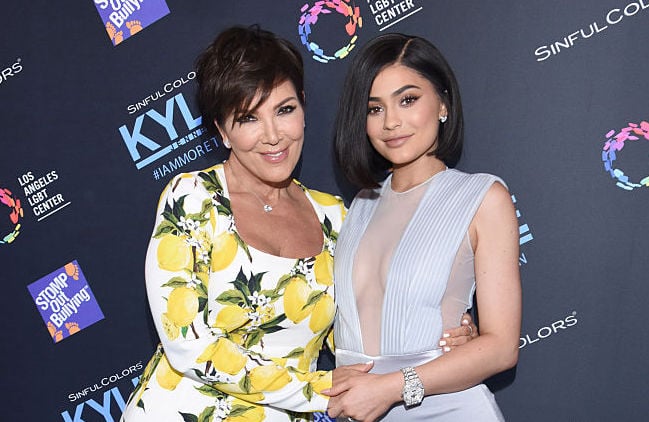 Kylie and Kris Jenner's TikTok video on Kourtney Kardashian and Scott Disick
On Monday April 6, she posted a video where she reproduced the iconic song "ABCDEFG" between Kardashian and Disick. She played her sister while Kris took on the role of Scott.
The clip begins with Kris saying the words on a Disick soundtrack asking, "So, are we cool?" Like, are we okay? "
"ABCDEFG … I have to go," Jenner replied as the Kardashian, slipping on a pair of sunglasses with pearl accents.
"What does" ABCDEFG "mean ?! Kris synchronized lip to which Jenner said, "It's just a phrase that I like to use that means the conversation is over. "
The real clip of the argument of Kourtney Kardashian and Scott Disick
The clip is from a previous season of the show when Kardashian and Disick were still together. They were at home when an argument broke out over Kardashian's attempts to discuss interior design in the wee hours of the night. Disick felt it was too late to talk about work, but Kardashian said there was no better time because Disick woke up late.
After a brief back-and-forth, the founder of Poosh tried to end the argument with the line "ABCDEFG". But that left Disick puzzled and asked him to clarify what it meant. The scene ended when Kardashian got up and left the room.
After a nine-year relationship with three children, Kardashian broke up with Disick in 2015 when he was seen partying with a group of women, including an ex-girlfriend. Each of them has since evolved, but they stay in the life of the other thanks to their children.
Kourtney Kardashian has withdrawn from "following the Kardashians"
Kardashian pulled out of the show in 2019 as tensions with his sisters soared.
Over the past few seasons, Khloé Kardashian and Kim Kardashian West have had major problems with Kourt's work ethic, complaining that she doesn't share enough of her life on camera, forcing them to take over. Things got so hot that she and Kim had a physical argument that aired on March 26 and April 2.
While the second episode was playing, Kardashian told fans on Twitter that she saw parenting as a job and that was really why she decided to leave the series.
"I decided to focus on my kids and my lifestyle brand, Poosh, which is about finding YOUR healthy balance to live your best life," she said in a tweet.
With any luck, she will continue to make appearances in the series so that we can have more iconic moments like this song "ABCDEFG".