Doctor praised after criticizing the government's "very weak response" to the coronavirus outbreak in an appearance on Fox News.
Osmosis chief doctor Dr. Rishi Desai may be seen shaking his head continuously as Fox News host Martha MacCallum says there should be millions of COVID-19 tests available in the United States for help cope with the epidemic.
MacCallum added that the country is still waiting to fully deploy the Abbott Lab test kit, a rapid blood test that can give a diagnosis in minutes.
"But they're working on it," said MacCallum.
"They should have been working there for months," said Desai.
Desai asks why the administration of President Donald Trump now only acts on these test systems when the World Health Organization officially issued a warning regarding COVID-19 on December 31, 2019 after the virus broke out in China.
"So, last year, we knew about it, we knew the coronavirus was coming, we knew it was a respiratory disease, we knew it was person to person," said Desai.
"Why is it this week that the FDA finally approved these new Abbott Lab tests, which are one test at a time.
"It's a wonderful test, make no mistake, but it's a test every 15 minutes. It's wonderful, but it's not the same volume that you really need. It's better for outpatient clinics and things like that.
"We needed this months ago. "
Desai adds that it is clear how the United States has reacted to the virus compared to South Korea. The two countries reported their first case of coronavirus on the same day of January 19.
Since then, the United States has become the country with the most confirmed cases in the world with more than 216,000, according to Johns Hopkins University.
At the same time, South Korea has registered fewer than 10,000 cases after quickly implementing coordinated mass testing. The country also recorded 169 deaths from COVID-19, compared to 5,137 in the United States.
"Look at what South Korea has done and what we have done. Their population is one sixth of ours, look at the cases they have, look at their mortality, "said Desai.
"It is a trifle compared to what we are dealing with right now, because we had a very weak response and they had a very strong response. "
MacCallum then pauses for a few moments before ending the interview.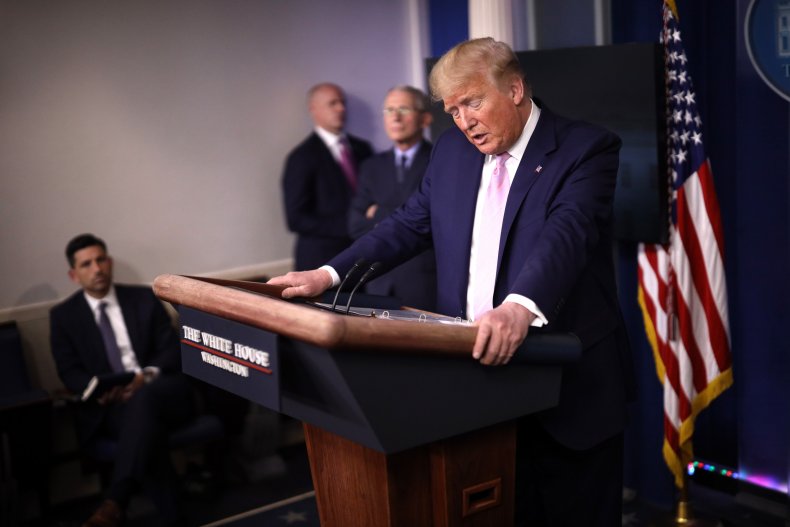 After an excerpt from the interview was posted on social media, tens of thousands of people praised the doctor for his response, as well as criticized Fox for his coverage of the pandemic, helping Desai become one of the most popular topics on Twitter.
"Share this Fox News clip of Dr. Desai with everyone who still doesn't understand how the total failure of WH in testing is why we are here," wrote Qasim Rashid, a Congressional hopeful from Virginia.
"This is a rare moment when real reality collides with the alternative universe that is the" news "of the fox. Dr Desai with no tolerance for lies, "added author James Michael Sama. "Now if only the audience listened. "
Colleague author and podcast host Arnab Ray wrote: "Trump's pet network should fire his booking agent for inviting Dr. Rishi Desai. What Covid19 is to people's lungs, the truth is in Fox News. "
Elsewhere in the interview, Desai also called for a full and mandatory national lockdown to help fight the spread of the coronavirus.
"Let me tell you something that you and your viewers might find inspiring: if we shut down, if we shut down the tracks and the airlines and do it as I suggest and really control it … We would see a drop in cases within two weeks, "he said.
"In two weeks, the number of cases will start to drop and the whole country will breathe a sigh of relief.
"But we don't do it," he added. "We're just going to see cases popping up all the time quickly and we're sort of panicking about the Dow Jones, but the truth is if we did it for a consistent period of time, just a few weeks, you would see the number of cases fall. "
The FDA has been contacted for comment.
There are more than 956,000 confirmed cases of COVID-19 worldwide, with 48,583 deaths. Over 202,000 people have successfully recovered from the virus.
The map below, provided by Statista, shows the global spread of COVID-19 cases on April 2.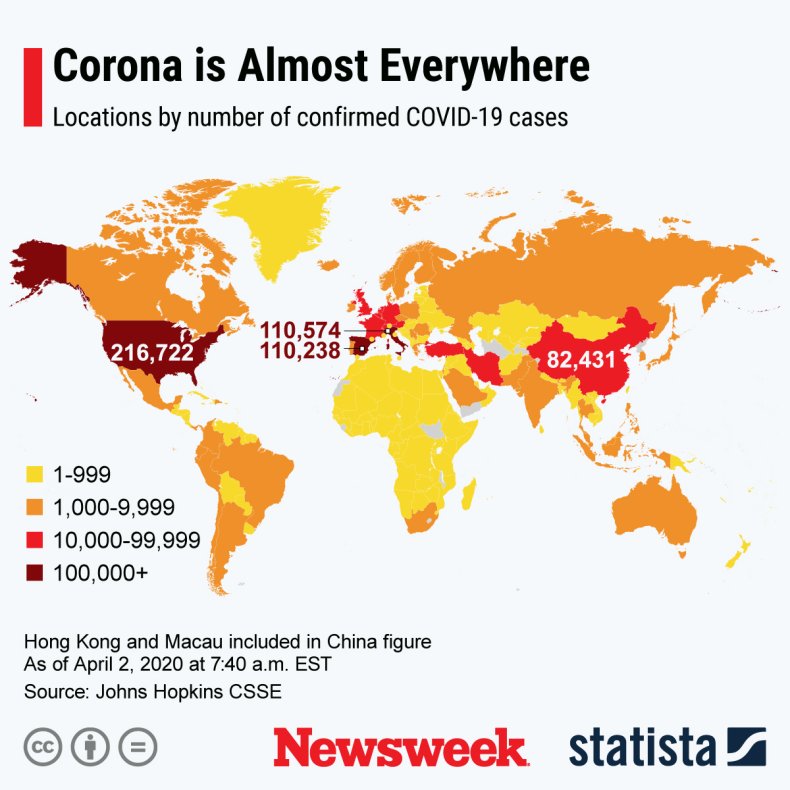 Advice from the World Health Organization to prevent the spread of coronavirus disease (COVID-19)
Hygiene advice:
Wash your hands frequently with soap and water or an alcohol-based disinfectant.
Wash hands after coughing or sneezing; to treat the sick; before, during and after food preparation; before eating; after going to the bathroom; when the hands are visibly dirty; and after handling animals or waste.
Keep a distance of at least 1 meter (3 feet) from anyone who coughs or sneezes.
Avoid touching your hands, nose and mouth. Do not spit in public.
Cover your mouth and nose with a folded handkerchief or elbow when you cough or sneeze. Discard the tissue immediately and wash your hands.
Medical advice
Avoid close contact with others if you have symptoms.
Stay at home if you don't feel well, even with mild symptoms such as headache and a runny nose, to avoid the potential spread of the disease to medical facilities and others.
If you develop severe symptoms (fever, cough, difficulty breathing), seek medical advice quickly and contact the local health authorities in advance.
Note any recent contact with other people and details of the trip to provide to the authorities who can trace and prevent the spread of the disease.
Stay up to date on COVID-19 developments published by health authorities and follow their advice.
Use of mask and gloves
Healthy people should only wear a mask if they are caring for a sick person.
Wear a mask if you cough or sneeze.
Masks are effective when used in combination with frequent hand cleaning.
Do not touch the mask while wearing it. Wash your hands if you touch the mask.
Learn how to properly put on, take off and remove masks. Wash your hands after throwing away the mask.
Do not reuse disposable masks.
Washing your bare hands regularly is more effective against COVID-19 capture than wearing rubber gloves.
The COVID-19 virus can still be detected on rubber gloves and transmitted by touching your face.