Dear Mr. Gerrard,
You think the FBCL is desperate to end the season in the current standings rather than ending up on the field. As manager of the Rangers, you have a slightly accusing tone towards the SPFL, but that is becoming the norm when it comes to everyone's outbursts at Club Ibrox at the moment. Say they call it Celtic paranoid.
In the Times, you say, "I want to go back to work, I want to continue this season, there is a real desire to finish it. Unfortunately, this is not the case with the governing body. "
Like a child tossing stroller toys, you use phrases like "low energy" from FBCL and "desperate" to end the season earlier. It's a pretty poor choice of words from a serving Scottish manager, and something that FBCL may want to address. But then again, you and "the" Rangers have history and they are rarely rebuked, which is probably what inspires encouragement.
But that's not really my point. your words, Mr. Gerrard, supported me a little. I am sure you want to go back to work. While you cool your heels at home, some of us in the public service like me, my wife and our many colleagues have seen our workload go through the roof and what we would like is a few days leave, a respite in an upward trajectory of pressure on public services, to spend time between them and with our own children.
But you know what, people are already sick, get sick, or need help when they leave hospitals. For some of us, all leave has been canceled for a foreseeable period. We accept that, we both signed our jobs, and knock our gums a lot less than you, Mr. Gerrard, without having to face a bit of boredom.
If you want a few days of transplant on the front line, I'm happy to tell you a little lie tomorrow morning and you can get knocked out. You will find that you will sleep well, I guarantee it. As long as you're not on call like I am now.
Under normal circumstances, we work Monday to Friday from 8:30 a.m. to 5 p.m. We then have a staff member on call to cover our entire area from 5 p.m. to 8:30 a.m. the next morning. This single officer also covers 24 hours on weekends and holidays. It is often a challenge even without the threat of a pandemic, but it is about manageable if not a little private sleep.
Currently we have changed for all staff covering 8 am to 8 pm everyday. We then have two officers and an assistant covering from 8 p.m. to night until we start again the next day. We do this on a weekly rotation basis. We cannot commit beyond that because we do not know how many employees we actually have overnight, that is the risk of exposure they face.
The reason for the change is demand. For my wife, it is in the departments and in the laboratories that test at three different hospital sites, for me, it is managing hospital discharges and ensuring that they have a roof over their heads. The government has given instructions and rightly so that everyone who is homeless or who we believe may be homeless is housed. No, but no corn. Just do it.
On top of that, the hospitals go out all the time. No advance notice, no planning, just a maximum authorized turnover of 3 hours between the discharge coordinator calling the emergency line at a confirmed placement in the hospital and a driver at the discharge of the hospital ready to recover.
It's good if you have a home to go to or if the family plans to bring someone back who just spent time in a hospital riddled with coronavirus. Many families do not do this and many people themselves do not risk it either. Its fine margins for the beds now. The rooms are at full capacity, much beyond. Not just the neighborhoods of Covid, all the neighborhoods. Turnover is key.
Our service is to book entire hotels – fortunately more welcoming to homeless customers than they have been before due to their own financial needs as a nation of weekend hikers, business types and vacationers stay at home – and one of the bravest men I know, a taxi driver for whom we had to take PPE but who agreed to transfer as many of our clients as he did. I would like to name this man and show his photo in this letter so that you can put a face to this altruism, but unfortunately I cannot. I don't even know what it looks like.
We then employed brave staff in the hotels as security. We must ensure that lockouts are imposed on many clients who have mental health and addiction issues, who are exasperated by the rules of self-isolation and who, willingly or not, post the rules and terrify staff and the other guests. We have staff who deliver food and a team of social workers dealing with addiction and mental health issues.
So, Mr. Gerrard, if you are bored or if you think that the FBCL is doing nothing more than adopting a responsible attitude during this crisis, then come and hide yourself or my wife or any other key worker and see what we are really talking about here. Real human lives affected by this crisis.
In the corner, health professionals warn the Prime Minister that the mass rallies are far away. A prudent and sensible approach based on the interpretation of statistics and the projection of the unknown. On the other hand, we have football clubs who want everything back to normal as soon as possible to protect their economic situation, their livelihood income, their very existence.
This is reflected across the country. Medical advice against the economic need to panic. Scottish football is no different. We've heard Dave Cormack and Leanne Dempster say we need to get football back, and while I sympathize with the financial situation of their clubs, I'm also fully aware that it's just too dangerous and irresponsible to do it anytime soon.
Some may view the clubs' position as a common sense approach to consulting and finding a fair way to end a football season. This argument has merit. There is also merit to believe in ghosts, goblins and fairies at the bottom of your garden, according to your point of view.
The fear is there for the football clubs in Scotland about the renegotiated television agreements and the absence of paying customers going through the turnstiles, coupled with the threats of UEFA on the European places for the next season, I understand all this and in an ideal world, it would have a chance of happening, if it does, it's a chance of snowballs in hell right now.
China where this epidemic started at any time from September / October last year to December last year, according to the person who you think has reported no new deaths from Covid-19 for the tenth day consecutive. Once again, an act of trust in the reports is necessary.
They get new cases, however, but not as many deaths. This indicates that hospitals are starting to cope, not that they have an idea of ​​this and that life can return to normal, there is a huge difference. The United Kingdom is far behind this particular curve, several weeks, even several months, even if we actually follow a similar pattern.
Schools are not expected to open until June 1. It falls very close to the summer stop. Does anyone think that social distance classrooms will be risky for a few weeks, or is it more likely that they will come back to that after the summer vacation? Yes me too. It's just a more palatable sound appetite for parents trying to manage home schooling, the information and hope in bite-size pieces are a little easier to digest.
In Holland, the Prime Minister advised against football until September 1, and the Dutch ended their league. A decision probably designed to focus minds on medical danger rather than economic gain. Even September seemed optimistic.
Whether it's in-camera games or supporters through the turnstiles, this just isn't a possibility in the real world at the moment.
Mass gatherings in particular are very far away. Even if closed-door matches could be considered, there is no trained medical staff in the UK who could be considered able to supervise a football match at this time, not when they are there are not enough staff to manage the current medical need on the front line.
If this is rushed and if politicians bend to economic demand at the expense of medical advice and make a mistake, then football could start, we find that we have timed badly and we have come back to zero.
This is why it is important that Dave Cormack, Leanne Dempster and now you, Mr. Gerrard, pay attention to your words. Unless, of course, you want to put your own neck on the line and join an ever-decreasing number of key workers working more hours than they have ever worked in their lives. We could certainly do with help.
If you don't stay indoors, have a few drinks, relax and enjoy the time with your family. The government will notify you abundantly when the restrictions are lifted. Then you can plan, and then you can push for a football return date. For the time being, please roll up your neck.
In your case, Mr. Gerrard, SPFL does not distinguish you or your team. I understand "the" Rangers' desperation for income and I understand that the perceived intransigence of the FBCL is not favorable to you when it comes to avoiding insolvency, but at least they are showing a bit of responsibility and understanding of what's going on. in the real world.
Come to my house, Mr. Gerrard. I'll show you the reality of it all. Nobody has one for you or your club. This is just a crisis, and it shows no signs of slowing down.
This is the reality, Mr. Gerrard.
A frontline voice in the battle against Coronavirus.
Name and address (in England) provided but not disclosed.
Matt Corr, the very famous Celtic Star – whom you may also know as a tour guide at Celtic Park – publishes his first Celtic book, entitled INVINCIBLE – early next month. This wonderful hardcover book will be the definitive story of Celtic's 2016-2016 magic season – it is truly wonderful, a joy to read and brilliantly written by Matt.
If you have read Matt's regular contributions to The Celtic Star or the Matchday program or Celtic View, you will know how talented a Celtic writer is. The book is published by The Celtic Star and you can pre-order below.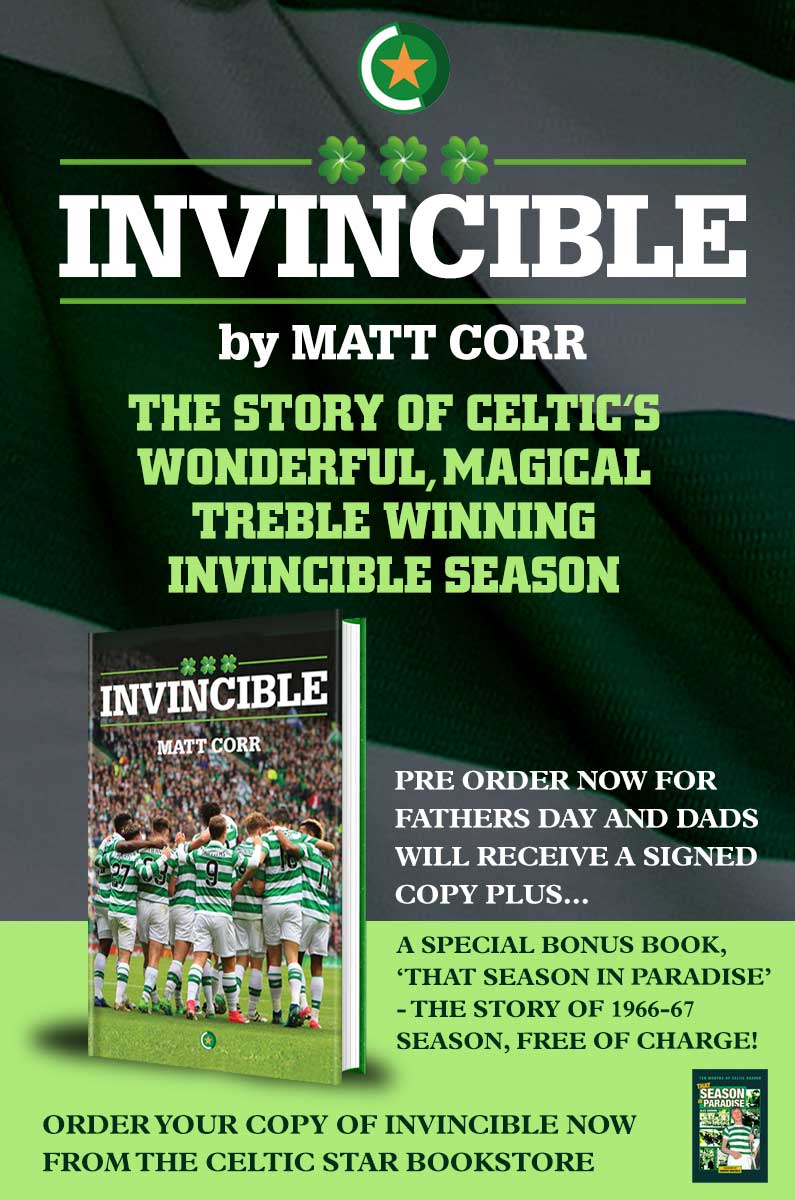 Help raise funds for Celtic Youth Development by joining the weekly £ 1 lottery and you could win up to £ 25,000 – just click on the photo below to register. Many of our readers have already done so and they are now doing their part to help fund the development of young Celts who can deliver the stars of tomorrow and beyond. And you could even win some bobs too! And a special thank you to all the readers of The Celtic Star who have already signed up and are now supporting the development of young people to give us the Celtic Stars of the future…