The coronavirus has infected more than a million people worldwide, according to the latest figures from Johns Hopkins University.
The virus, which was first reported in Wuhan, China, has spread to at least 181 countries and regions. The United States has more cases than any other country, with more than 234,000 confirmed infections to date, followed by Italy (115,000) and Spain (110,000). The three countries have exceeded the number of cases in China, which now has a confirmed infected population of 82,400 people.
While China has seen an increase in imported cases in recent days, the epidemic has been largely contained, with restrictions on overseas travel now being lifted in Hubei province. The restrictions are also expected to be lifted in Wuhan later this month.
But cases continue to soar outside of China and the spread of the virus is accelerating in the United States, the current global epicenter of the epidemic. New York continues to report the highest number of cases in the country, with more than 83,700 infections confirmed to date, including 47,439 cases in New York, confirmed the office of New York Governor Andrew Cuomo on Wednesday.
As the virus continues to devastate Italy and Spain, killing thousands, the two countries also reported the two largest numbers of recoveries. Spain has seen more than 26,000 people recover from an infection, while Italy has experienced more than 18,000 healings.
The two European countries also showed signs of a slowdown, each reporting brief moments of a slight decline in new infections and deaths.
In the Middle East, Iran has registered more than 50,400 confirmed infections, including 3,160 deaths. Iranian President Hassan Rouhani said last week that the death toll in the country was falling, based on a reported drop in hospital admissions.
Rouhani said at a meeting with the National Coronavirus Task Force, "Among the topics discussed was a report that it was evident that hospital registrations in the provinces had decreased and that the number deaths decreased, both being important to us. "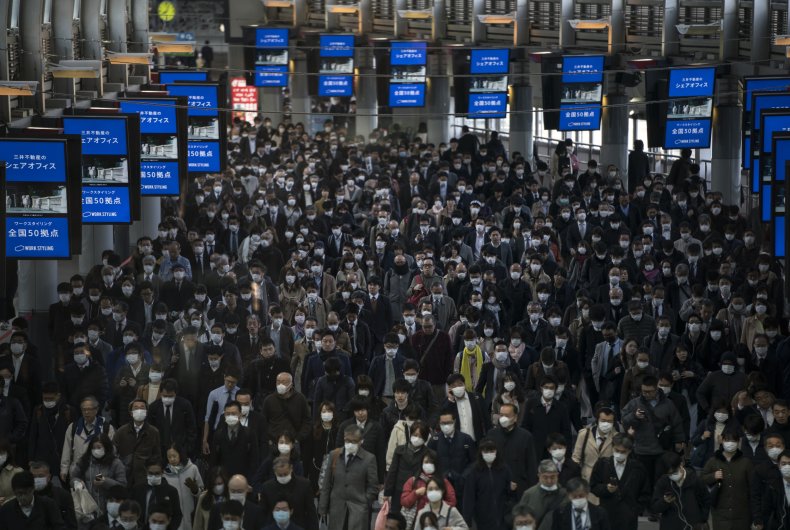 Elsewhere in Asia, South Korea has also managed to contain the spread of the virus after seeing an explosion of around 500 or more new cases per day for an extended period of time. Today, it has nearly 9,900 cases, including 169 deaths to date.
Large parts of Africa have yet to report cases, but the epidemic has spread to several countries, including South Africa, Egypt, Morocco, Tunisia, Ghana and Senegal, between other.
Latin America was also reportedly unaffected, but cases have been confirmed in some countries, including Brazil, Peru, Colombia, Argentina, Panama and Honduras, among a handful of others.
Top 10 countries with the most confirmed cases
(as of April 2)
United States – more than 234,400
Italy – more than 115,200
Spain – more than 110,200
Germany – more than 84,200
China – more than 82,400
France – more than 59,900
Iran – more than 50,400
United Kingdom – 34100
Switzerland – more than 18,800
Turkey – more than 18,100
The graph below, provided by Statista, illustrates the spread of COVID-19 around the world.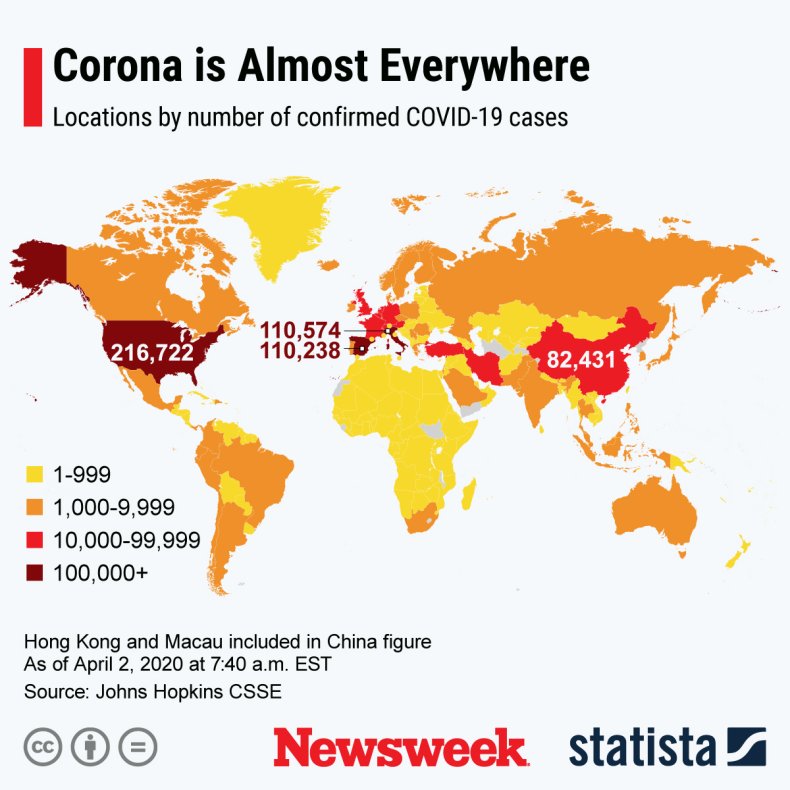 Unless otherwise indicated, data on COVID-19 cases are from Johns Hopkins University.
Advice from the World Health Organization to prevent the spread of coronavirus disease (COVID-19)
Hygiene advice
Wash your hands frequently with soap and water or an alcohol-based disinfectant.
Wash hands after coughing or sneezing; to treat the sick; before, during and after food preparation; before eating; after going to the bathroom; when the hands are visibly dirty; and after handling animals or waste.
Keep a distance of at least 1 meter (3 feet) from anyone who coughs or sneezes.
Avoid touching your hands, nose and mouth. Do not spit in public.
Cover your mouth and nose with a folded handkerchief or elbow when you cough or sneeze. Discard the tissue immediately and wash your hands.
Medical advice
Avoid close contact with others if you have symptoms.
Stay at home if you don't feel well, even with mild symptoms such as headache and a runny nose, to avoid the potential spread of the disease to medical facilities and others.
If you develop severe symptoms (fever, cough, difficulty breathing), seek medical advice quickly and contact the local health authorities in advance.
Note any recent contact with other people and details of the trip to provide to the authorities who can trace and prevent the spread of the disease.
Stay up to date on COVID-19 developments published by health authorities and follow their advice.
Use of mask and gloves
Healthy people should only wear a mask if they are caring for a sick person.
Wear a mask if you cough or sneeze.
Masks are effective when used in combination with frequent hand cleaning.
Do not touch the mask while wearing it. Wash your hands if you touch the mask.
Learn how to properly put on, take off and remove masks. Wash your hands after throwing away the mask.
Do not reuse disposable masks.
Washing your bare hands regularly is more effective against COVID-19 capture than wearing rubber gloves.
The COVID-19 virus can still be detected on rubber gloves and transmitted by touching your face.